When you own a commercial cleaning company, providing top-notch cleaning should be your primary concern. This will allow you to do your work quickly, effectively, and safely. After all, this is the main focus of your position.
However, you shouldn't limit your attention to this. Good customer service is just one of many other factors that encourage customers to support your business. While its definition—the help given by a business before, during, and after a sale—might seem simple enough, getting it correctly is more difficult.
Customers would be hesitant to do business with you even if you offer the best cleaning services if you don't accompany it with excellent customer service. Here are some actions you may take if you want to start things off right or improve the client service at your cleaning company:
1. Be Well-Versed in Your Industry
You must first be an authority on the products and services to deliver first-rate customer care. This goes beyond simply using eco-friendly products and doing thorough end-of-lease cleaning. Instead, it also entails having a firm belief in what you have to give.
Knowing your cleaning industry through and out can help you make more intelligent product and solution recommendations. Your clients will benefit more as a result of this.
2. Recognize Your Clients
To be able to deliver excellent service, you must also get to know your consumers. This can be accomplished by compiling pertinent information, such as the most popular times for scheduling cleaning requests, the locations of their properties that require more thorough bond cleaning, and so on.
This will help you comprehend your consumers' specific wants and how to effectively provide them. An excellent suggestion is to periodically undertake market research so you can adjust to your target audience's shifting wants.
3. Be Timely
Customers are accustomed to receiving cleaning services at breakneck speeds, perhaps as a result of how much more convenient technologies like the internet have made life. If your clients desire complete cleaning and disinfection, be sure to underline that they involve numerous procedures and can't be rushed. Some things take a little time.
Nevertheless, some elements of customer service require speed. Responding to client comments or questions as well as little problems that don't call for a full day of cleaning are examples of these.
You can utilize software that includes functions like scheduling/calendaring, messaging, and time-tracking to make sure nothing slips through the gaps. By centralizing everything, you will only need to keep an eye on a few platforms or apps.
4. Offer Individualized Service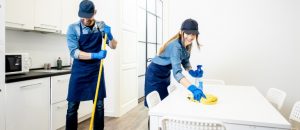 Customers don't want to be treated indifferently, but they do want you to respond to their complaints quickly. Keep in mind that your customers are people and deserve to be treated as such by the cleaning company.
Therefore, it's advisable to stay away from prefabricated comments that come off as too robotic to be of any use. Additionally, you must make sure that a client's issues may be resolved without having to refer them back and forth between several departments or point people.
Returning to the second point, developing a relationship with your consumers is essential to offering humanized, specialized services. Make note of their particular requirements so you may adjust your comments and solutions accordingly.
5. Include a Self-Help Choice
Some clients are more autonomous than others, and they would rather attempt a solution before seeking assistance. It might be helpful in this situation to provide FAQs on your website. You can even include voice prompts if you have a telephone hotline. A chatbot with many options can work as a more contemporary alternative.
Add a button, form, or another way for users to contact a live person when you deploy these self-help alternatives. This demonstrates your willingness to help and your concern for finding a solution to their problems regarding end of lease cleaning.
6. Make a Loyalty Programme
Finding new clients is more expensive for a company than keeping its current clientele. As a result, a loyalty programme is more cost-effective for your cleaning company. It's time to think of one if you don't already have one.
A loyalty program is essentially a system that thanks clients for their business. Discounts after a particular number of reservations, free samples of brand-new products, and free services following a successful recommendation are just a few of the incentives you might provide.
You must keep in mind that loyalty programmes can make a significant impact on customer happiness, and that happy customers are more likely to remain loyal to your business. It's a cycle you want to keep going through.
7. Politely Turn Away Individuals Requesting Free Cleaning Services
Not every client is the ideal client. Some of them are merely looking for a free sample cleaning and won't commit to anything ongoing.
Because they might be difficult to satisfy, some of them have worked for various cleaning companies. Keep in mind that cleanliness is a matter of perception. What is clean for one person could not be clean for another.
Avoid entering into a deal because you want to attract plenty of clients with bond cleaning. If you have a gut feeling that a client is being dishonest, pay attention to that intuition. You can graciously turn down the offer and go on.
8. Utilize Technology to Establish Connections With Customers
Our lives are made more comfortable by technology. The majority of conventional cleaning businesses are terrified of it.
Learn about the useful software that is available online. Additionally, you can sign up for trial periods to evaluate if this is right for you.
Software for accounting, planning, marketing, and many more functions is available to assist you in expanding your company. Utilize free social media marketing opportunities.
Use email to its fullest potential. Respond to every consumer and prospective customer that contacts you on various social media sites.
9. Value Time, Minimize Effort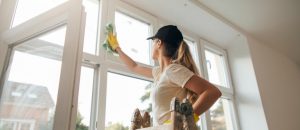 Frustration over squandered time and excessive effort spent looking for a solution to an issue is one of the main reasons clients leave a company. Create a path of least resistance and make each phase of the customer care experience transparent.
If at all feasible, have a real person answer the phone and refrain from transferring or keeping consumers on hold for too long. Employ friendly, experienced, and passionate staff in your front office and on the front lines who are willing to guide your consumers to a satisfactory resolution of any problem.
How can you tell if there is a problem with you? Call your own office or ask an existing client to assist you by making a call with a concern and outlining the best course of action. They will be more devoted to you if they can see that you are making every effort to give them the best experience.
10. Give Existing Customers Top Priority
New customers are crucial, but it's also critical to keep your current customers. You can manage and keep track of your customers with the assistance of a top-notch customer relationship management (CRM) solution.
Ask how you might improve the experience if you detect a decline in their service activity or sales volume. Show your gratitude and reward their devotion if you see an increase. Offer fresh advantages and solutions that change to meet their demands, and send out emails and newsletters regularly with updates. Tell them you are always keeping them in mind.
11. Give Your Staff Power
Teach your staff about your company's guiding principles and objectives so they may put them into practice at work. Give them the tools they need so they can handle issues without asking management for assistance.
Give workers the ability to "yes" and reduce the amount of time and money wasted by executives in escalation. Give routine encounters a clear set of steps to follow, decision-making power for the majority of exceptions, and an effective escalation system for true emergencies.
12. Increase Staff Knowledge
For them to communicate effectively with customers about issues, your personnel should be well-versed in the sector. Keep in mind that they are representing your business in the field as its face.
Many employees only learn their tiny part of the process, not the big picture of their organization or the industry. They are therefore less able to provide useful solutions as a result. Employees who are knowledgeable take ownership of their work, take joy in it, and can add something special to the daily encounters they have with consumers.
Working on your customer service skills as well as your industry knowledge is important if you want your cleaning company to succeed. You may not only increase your profit margins but also enhance your reputation by providing excellent customer service.