The typical woman devotes 2.7 hours per day to housework and personal care activities including cooking and cleaning. That amounts to 985 hours per year spent on housework.
If you're anything like a working mother, cleaning probably takes up not a lot of your time. Although if your family is on a tight budget, hiring house cleaning services might not be feasible.
So, here's how to keep your home tidy when you have unruly children: you need a structure.
Even if you don't have much time, having a routine can help you maintain the entire house clean. That's crucial if you're a working mum or a busy stay-at-home mum attempting to establish a housekeeping routine.
And by employing a few clever mum-cleaning tricks, you may take care of a cluttered house even more quickly!
You can maintain a clean home and yet have plenty of time to spend with your children or take care of everything else on your busy mom's to-do list, whether you have tiny children or unruly tweens and adolescents. You can keep your whole house clean while spending less time cleaning with the simple tricks mentioned.
1. Start by purging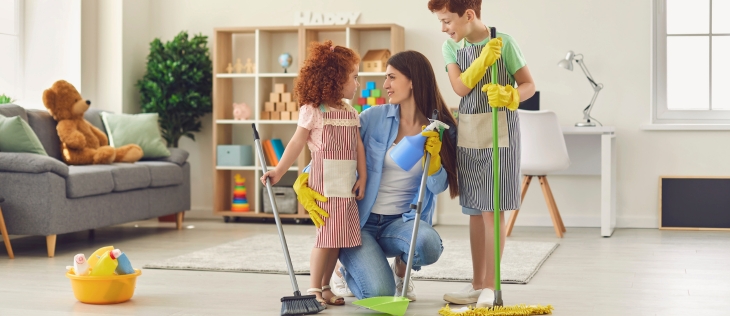 The first thing you should do is clear your home if you want to spend less time cleaning.
It's simple for stuff to accumulate around the house when you have kids. Everything needs a home—books, toys, games, clothes—but if it's disorganised or you simply have too much stuff, cleaning it up can seem impossible.
One easy technique to reduce clutter in your home by house cleaners is to go through each room one at a time. As you purge, keep in mind to group items into piles:
Items to keep and items to discard
Items for recycling
Donation items
Items for sale
The idea is to get rid of everything you don't need and reduce the size of the "keep" pile as much as you can. You can sell unwanted items for additional money using the Decluttr app if you can't throw them away, recycle them, or donate them. That is a simple method to get a tidy home and some extra money!
If you're already doing your spring cleaning, spring can be a great time to do some decluttering, but you can start at any time. Additionally, frequently cleaning up your space, say once every three months, will help you keep organized and prevent clutter buildup.
2. Store items in baskets
Without suggestions for storage, the list of mum cleaning tips would be lacking. In addition to helping, you organize your home, baskets can also give it a little elegance.
For instance, you may store blankets, games, novels, and periodicals in storage baskets in the living area. These baskets are ideal for collecting clutter!
According to a reputed cleaning company, baskets can be used to gather mail or organise snacks in the pantry or kitchen. Additionally, bins in the bathroom help collect plastic toys from the tub. Just make sure they include holes to allow for the drainage of extra water.
3. Start rotating toys for kids
If you have young children, you have your fair share of toys, which can take up a lot of room.
One of the fave time-saving cleaning tips by cleaning services in Melbourne for busy mums is to set up a toy rotation because it's so simple to do and is a brilliant idea!
A toy rotation involves keeping some of your children's toys out and putting the rest away. Then you can rotate the toys they have been playing with into storage and bring out a fresh set each month.
A simple trick to prevent your children's rooms from being disorganised is to rotate the toys. Additionally, it can greatly aid in teaching your children to value the toys they have.
4. Set a timer
We don't have time for carpet cleaning because we are busy mums and it can take all day. However, you undoubtedly have time in your schedule for a brief pickup of 15 minutes.
How this mum cleaning tip works is as follows:
Select a room
Set a 15-minute timer.
As much cleaning as you can throughout that time
You're done when the timer sounds.
Will your house be immaculately clean? Most likely not. However, this is one of the mum cleaning tips that can make your house feel a little more organised and help you clear up quickly.
5. Organize as you go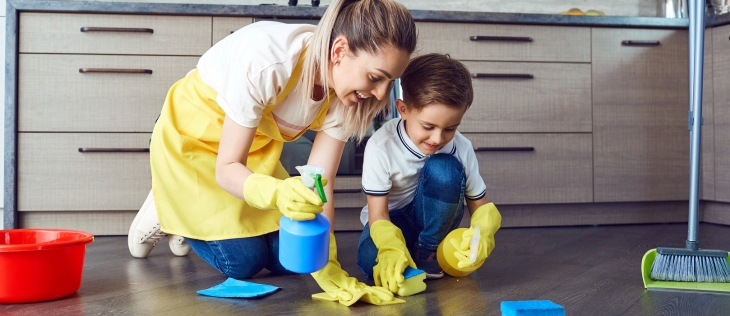 Here's another of go-to mum cleaning tip by home cleaning services: never leave a place without something.
Toss the cup one of your kids left on the coffee table in the sink if you're heading from the living room to the kitchen, for instance. Or, glance around the bedroom before you leave for any rubbish you can throw away.
Additionally, you can nudge your family members to follow suit. Even young children can pick up and put things away from a young age.
This is one of the straightforward cleaning pieces of advice from cleaning services that can assist you in maintaining a clean home while dealing with untidy children.
6. Do not use costly cleaning products
The following advice by house cleaners is ideal if you have a limited budget or wish to clean your home without using hazardous products. You may manufacture your cleaning products using items you already have around the house rather than spending money on cleaning materials that include harsh chemicals.
Additionally, you don't have to spend a lot of money on cleaning equipment. How much you can accomplish with a moist cloth, a clean broom, or a vacuum would amaze you.
No busy mum should be without these tried-and-true mum cleaning techniques!
To clean, disinfect, and deodorise kitchen surfaces, combine 5 to 6 drops of lemon oil with 1 ounce of water (5 to 6 drops work wonderfully!)
To clean and sanitize your washing machine, add white vinegar to it and run the hot cycle (vinegar is a fantastic all-purpose cleanser!)
To clean windows and mirrors, use warm water and white vinegar in a spray bottle at a 1:1 ratio.
To remove dust from vents, wipe them off with a butter knife and a moist cloth.
Instead of using a dry paper towel, which can create stains, use old newspapers to clean your windows.
To remove stains from the carpet, use hydrogen peroxide with warm water and dish soap.
To reduce drying time if you now use dryer sheets, switch to dryer balls and exclude fabric softener.
Dust the ceiling fan blades by placing an old pillowcase over them (one of my favourite dusting tricks!)
On hardwood floors, use a vacuum so you can omit to sweep.
Avoid using feather dusters since they merely move the dust about instead of collecting it; instead, dust with a moist cloth.
To remove hard water stains, soak your shower head in vinegar (if your shower head isn't detachable, use a Ziploc bag and a rubber band).
To clear clogs, pour hot water and baking soda through the drains.
These are all excellent suggestions by cleaning services in Melbourne for keeping a clean home despite having messy children and saving money on additional cleaning materials. These techniques might require some more work, but they can be the most effective way to clean without using any chemicals.
7. Do laundry every day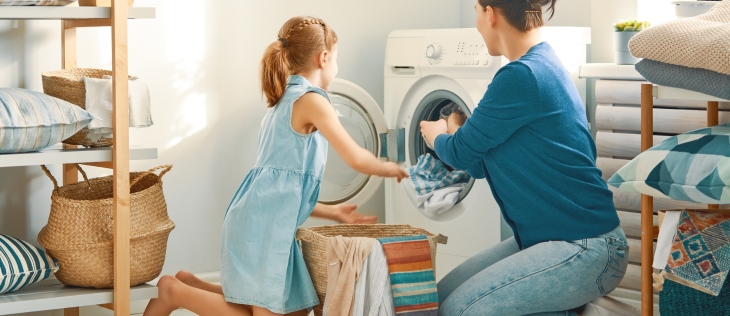 When you have children, laundry can accumulate, and if you're anything like me, it might be one of the household jobs you despise the most.
Doing one load per day is another easy mum cleaning tip you may try if you don't want to spend your Saturday doing laundry after laundry.
It can be much easier to fold one load of clean clothes every day rather than attempting to fold multiple laundry baskets' worth at once. Bonus points if you can make the family member who owns the laundry responsible for folding and putting it away.
8. When cleaning, use a laundry basket
When you have young children, it is very simple for their belongings to become dispersed throughout the house. And after a long day, gathering up all that junk could be the last thing you want to do.
So, this is what you do in its place. Each child is given a laundry basket, and as part of their bedtime ritual, they are instructed to gather their belongings from around the house and place them in the basket.
Everything goes into the laundry basket: plastic toys, books, and painting tools. The competition to see who can pick it up the quickest could result from this! They can put the basket in their bedroom, sort through it, and then put items away as part of their tasks around the house. This is yet another of my go-to mum cleaning tips because it teaches youngsters to take care of their belongings.